About Us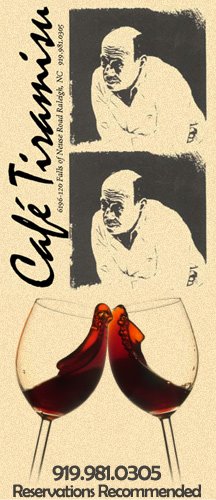 We are a family owned and operated restaurant, originating from a well known old Raleigh favorite for Northern Italian cuisine…Piccolo Mondo.
Chef Paolo DeMartino's 40+ years of experience and revered food talent, along with our elegant decor, will give you that fine Northern Italian dining at it's best for a fantastic price.
Cafe Tiramisu is a perfectly small restaurant that has had a large presence in Northridge Shopping Center for 20 years as of 2015.
Indulge in any of our incredible dishes but don't forget to try the spinach fettuccine as it is famously unforgettable!  Choose from our extensive wine list or enjoy your favorite cocktail since we have a full service bar that you may feel free to visit prior to your dinner – or choose from the entire menu and enjoy unmatched bar ambiance.  The bar has become a neighborhood favorite over the years…and you may catch a glimpse of Paolo or one of his 2 sons working hard in the kitchen preparing only the freshest "cook to order" food.
The desserts are scrumptious as well.  You may want to end the night with the one that bears the name of the establishment…Tiramisu.
The DeMartino family first went into the restaurant business in 1976 with Piccolo Mondo and many people still remember it well.   All agree that Cafe Tiramisu now has it's own traditions and a strong following that ranks it among one of the best in Raleigh, N.C.  Richard and Rodolfo grew up working at Piccolo Mondo where they learned all about operating and running a successful restaurant.  Anyone will tell you that they have kept the tradition going and are talented chefs as well!
There are many dishes to choose from and special items offered from time to time so you will definitely want to visit more than once – but don't forget to make a reservation as any given night you may be joined by the who's who of Raleigh as well as people from all over the world.  Just ask Paolo about some of the famous faces that have enjoyed dining here over the years.  In 2015 this restaurant was featured in the HGTV show "Love It or List It" with stars David Visenti and Hilary Farr as part of episode # 4.
You don't have to go to Italy to taste the true Northern Italian cuisine because you will certainly find all you need a more, right here.  The DeMatino's have brought their family recipes over from the old country to insure that you will enjoy your experience at Cafe Tiramisu.
We will be honored to have you join us any evening starting at 5:30pm.
See you soon!